With a background in natural health, I have used natural remedies for over 25 years.  From herbs to teas, aromatherapy to minerals, homeopathy to massage, going "natural" has been at the core of my life.
Now as an End of Life Doula, I find that natural remedies fit perfectly into helping not only those that are approaching the end of their life, but also their family members. In particular, I love using flowers essences (or flower remedies, as they are sometimes known) to help with ongoing stress and grieving issues.
But what are flower remedies? The original Bach Flower Essences were developed by a famous English physician, pathologist and bacteriologist Dr. Edward Bach.  Some 80 years ago, Dr. Bach wrote and published The Twelve Healers and Other Remedies, a landmark book that described completely safe and very effective methods of holistic healing based on the completely safe and therapeutic use of wild flowers.  In his book, Dr. Bach revealed the 38 remedies he created — Bach flower essences or remedies — that treat specific and underlying negative emotional states or characteristics that can harm the human body.  You might have heard of the popular "Rescue Remedy" which is used in times of crisis.  I've been using and creating custom flower remedies for over 20 years now and I love their subtle way of helping people to overcome emotional strains.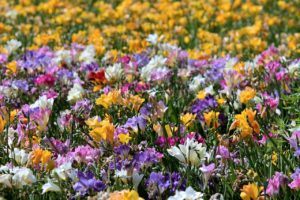 They are prepared extracts (like homeopathic remedies) from various flowers and help to bring about gentle healing to balance negative energies in the body. Flower Essences are a natural and safe form of complementary healing and are free from any toxins or preservatives. They can be used in conjunction with other therapies; even prescription medicine, without fear of any interference.  Since they are natural and homeopathic in nature, they will not interfere with any other treatments that might be ongoing. These essences are safe, highly diluted and preserved in a mixture of water and a small amount of alcohol (typically brandy). They're easy to take too. All you have to do is apply a few drops directly under your tongue or just add to water and drink.
Approaching the end of life often is accompanied by very stressful emotions.  Things like grief, fear, anger, sadness and depression, are common not only in the person that is dying, but their family members as well.  A custom-blended remedy can be created just for you, based on your unique emotional state and can help to reduce your stress levels during this transitional period in your life or in your loved ones life.  Consultations for a custom-blended flower remedy can be done via phone and the remedies shipped anywhere in the United States.  Contact Me to find out more about this unique type of therapy.