My mission is to serve terminally ill people and their families through advocating for their needs, tending to their emotional and spiritual concerns, and providing compassionate guidance toward a comfortable and peaceful relationship with death.
With a growing aging population in a society ill-equipped to prepare for and emotionally process the transition from life to death, the services of an End of Life Doula are more important than ever. Through dedicated patient advocacy, emotional and spiritual support, companionship and knowledge, an End of Life Doula offers guidance and comfort through the last steps of life.
Benefits of working with me
It is common for people who are dying to feel lonely – End of Life Doulas provide companionship and support to people who are dying (and their family members) when they feel isolated and afraid

I have been around people who are dying and am well-equipped with the resources needed to cope with difficult and upsetting situations

My twenty years of experience in healthcare helps me efficiently guide patients through the system and allows me to effectively advocate on their behalf about their conditions and treatment options. I prioritize patient needs and ensure they receive the attention and care they deserve

I am a qualified Naturopath and Massage Therapist in San Antonio. I bring tools with me (like massage and natural remedies) that can help both the patient and their family to adjust to this transitional time

End of Life Doulas can advocate on behalf of patients, organizing questions for and attending  appointments to help the patient and their family get the information they need from medical professionals and make informed decisions

Many people do not want to go into a hospital and would prefer to die peacefully at home. End of Life Doulas provide flexible advice and companionship in the home environment (or hospital environment if that is the preference)

I am non-judgmental regarding religious beliefs, lifestyles (LGBTQ Friendly!) or family traditions. I am open-minded and my aim is to make patients and family members feel comfortable and heard
What is the difference between an End of Life Doula and Hospice?
Though End of Life Doulas and Hospice care both offer services centered around the transition from life, they vary in significant ways. End of Life Doulas can spend significantly more time with the patient and their family and attend to their emotional and spiritual needs at the end of life, prioritizing comfort and quality of the patient's life by reducing emotional suffering and honoring the patient's life, needs, and preferences. Hospice care is a type of health care that is more focused on medically assessing and tending to a terminally ill patient's pain and symptoms. Please see my article "End of Life Doulas & Hospice: The Best Support for the Patient" for more information.
Book a consult today. Let me help you make your end of life transition a peaceful one.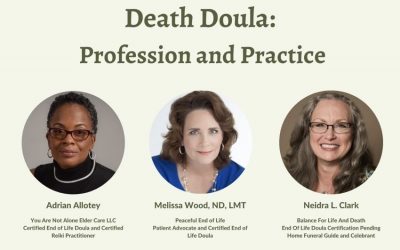 I'm very honored to have been chosen for a panel discussion on the Completed Life Initiative. This event will be held Tuesday, January 19th at 11am CST. Please join their mailing list and contact them for information on how to participate in the panel. I sure hope...
read more